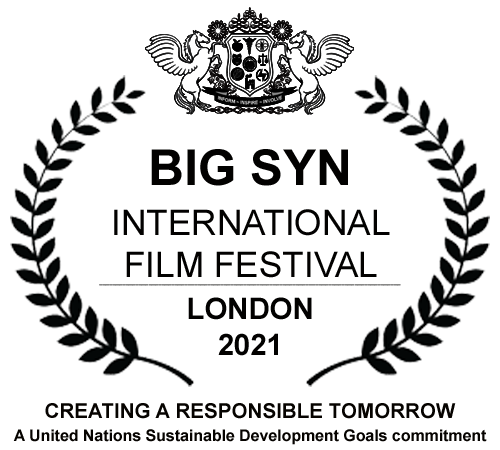 This film festival has been made possible purely through voluntary efforts of the team of dedicated volunteers, judges and the Grand Jury. Hence, we need the support of all viewers to continue with our mission of educating millions more about the UN SDGs and inspiring action for the Global Goals.

Please support us with any amount if these films make you pause for a moment and help you realise the importance of our actions in today's interconnected world to ensure a safe, secure and sustainable future for all.
Paradise
In a situation of extreme nihility and despair, any absurd legend may become the guide stone of hope. One day, the world becomes a barren and barren area. Two remaining people, a poet and a madman, go to the eternal pure land of legend: the Paradise, and experience all kinds of dialectics about the meaning of life on their journey.
The Moth
A random train meeting between a Black English man and a White South African soldier is hauntingly told by the Englishman looking back years later. It still casts a heavy and foreboding shadow into the present.
Neuron
The protagonist, who had a career shift from a court-room reporter to a one-person media reporter, gains a mysterious power from chestnut and uses this power to find his/her news. However, she takes on step further to pass judgment of her own, deciding who the victims the perpetrators are by pulling the strings of the public opinion.
The land beneath our feet
Joana decides to participate in an irregular occupation. This decision will give you much more than a home, but a new political conscience.
Feeling through
Feeling Through, the first film to star a DeafBlind actor, is a coming of age story that follows Tereek, a teen wandering the streets of New York, desperate for a place to crash when he encounters Artie, a DeafBlind man in need of help getting home. From an awkward meeting between strangers emerges an intimate bond, and a journey that forever changes Tereek.
Mashoom/ ماشوم
Bloor, An Afghan girl was able to ran away from Taliban after being their hostage for eighty days. She was raped and torture by them. Bloor goes back to her village and family and expecting a warm welcome. But everything goes the other way. she finds herself in a place where is way worse than being a Taliban hostage. She is now accused by her father and others for the shame that she brought with her. A disaster is expecting her.
Nicki ( نیکی )
A trans woman is on her way to a job interview in Tehran…
Una donna transessuale sta andando a fare un colloquio di lavoro a Tehran…
RADIO FREEDOM
'RADIO FREEDOM' tells the story of an idealistic man turned ham radio operator trapped in a besieged town. He finds refuge in an improvised radio station where he reports the war and helps his fellow citizens connect with their loved ones outside the town. His struggle for survival leads him through the war torn town where danger lurks from all sides.
YALLA
Four teenagers play football near an area guarded by a military drone. The ball ends behind a hill and Mufid has to go to find it. He never expected that recovering the ball could cost him his life. 
Quattro ragazzi giocano a calcio in un'area vigilata da un drone militare. Mufid calcia con forza la palla, che si perde dietro una collina. Mufid non sa che recuperare la palla potrà costargli la vita.
Check in
A story about a young man who is coming to terms with the daily tolls of mental health issues, and the affects it has in his daily life.
Beautiful Bear
Peter is on autism spectrum and lives with a soft toy bear companion called Teddy, who are inseparable. However, one night he must summon the courage to face a situation he has never faced before and for the first time…without Teddy.
Big Touch
An Afro-Surrealist story about a giant woman and a tiny man who through the power of touch, experience an unexpected transformation.