The only way to have a friend is to be one – Ralph Waldo Emerson
In supporting the Big Syn International Film festival, Friends of the festival are CREATING A RESPONSIBLE TOMORROW by informing and inspiring the civic society to act on the United Nations Sustainable Development Goals.
So far, the Friends of the festival have offered their support through volunteers, via public communications to spread our messages and updates, as well as by referring partners and Patrons to support the festival, to cite a few examples.

Please use the form if you are interested in becoming a valued Friend of the Festival.

Alternatively, you can also choose to be a Patron of the festival to benefit from the exciting privileges and exclusive access to content whilst supporting the talented filmmakers.
You do not have to pay anything to be a Friend of the festival but you can make a voluntary contribution to our chosen charities here.
---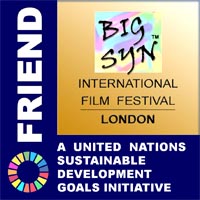 Please find below the voluntary mutual commitments, the Big Syn Institute makes to the Friends of the Big Syn International Film festival, and vice versa.
Maximise visibility: Create presence
Display the Friend of the Big Syn Int. Film Festival Logo on personal or organisation's website while we display your organisation's or brand's logo on bigsynorg. We will feature your brand or organisation on all the public voting pages of the People's Choice Award nominees and on the Screening Page of winning entries.

Follow us on all social media and professional networking platforms, while we do the same for you. Urge your followers on these platforms to follow us or subscribe to our social media accounts, and we will do the same for you.

Share the Big Syn Film Festival's posts, videos, blog posts, press releases and tweets; especially when we notify you about special updates or announcements. Please contact us to do the same for you or your organisation.

Give us the opportunity to provide quotes and opinions for your organisation's news releases or announcements (if appropriate). We will do the same for you.
Grow together: Refer individuals and organisations
Collaborate: start new initiatives
Keep each other in the loop of new developments to identify new opportunities and collaborate or participate in new and ongoing initiatives. Example: host a new event that serves missions of both our organisations, for a greater impact.
---
Please fill in the form below with your and/or your organisation's details to be a Friend of the festival. We will get back to you with further details in due course.