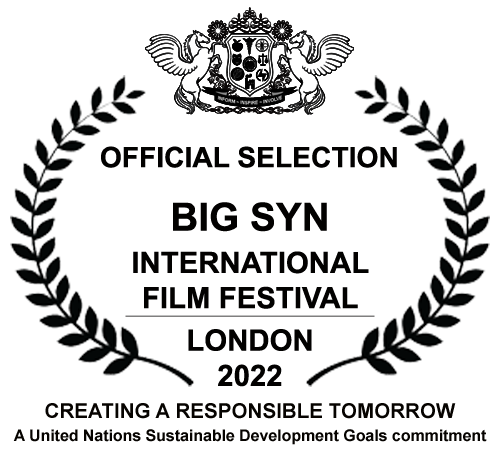 Documentaries
Music for the Deaf
Nicolas Mouren
"Music for the Deaf" … at first glance, the idea may seem paradoxical. Yet it is the gateway to a whole new way of experiencing music.
Within the deaf community, music leaves behind its audio-centric norm and reveals itself as a profound and transcendent form of expression involving all senses that can break down barriers between deaf and hearing people.
---
Disabled Artist Showcase: Creating Our Spaces

WORLD PREMIERE

Emmitt Thrower
We examine the work of four disabled musical and film artists who are helping to lead the movement that is advocating for inclusion of more disabled artists in the music, film and entertainment industries.
---
Dialogue in the silence and in the dark
Kostiantyn Mishchenko
The project involves blind and deaf artists. The blind sing, the deaf dance.
The aim of the project is a dialogue with an audience, dialogue about the fact that resolving money problems, not having any physical disability will not lead them to happiness, that is an illusion. Surprisingly, but resolvement of those problems bring out the problems of intolerable aimless existence and loneliness, that were not felt before, due to the fear and disorientation.
---
Cesar
Fisca Jean Paul Habimana
Cesar is a man who used to serve Rwanda patriotic army (RPA) during liberation of Rwanda in 1994, He got a bomb in the war and cut his parts of body including his leg.
After that incidence of him, he went to learn how to make prothesis and got it himself,
Since he learnt to make prothesis, he became professional orthopedic technician,
So far, he has helped over 260 people to get prothesis and walk again.
---
The Man of the trees
Andrea Trivero
Daniel Balima is a senior horticulturist from Tenkodogo, a small Sub-Saharan African town in Burkina Faso, where he lives with his large family and has worked since he was born 67 years ago.
Daniel as a child falls ill with polio and, although growing without the use of his legs, he is able to follow his father in the family nursery, walking on his hands.
He works immediately with great passion and talent so much that his disability, which for many in Africa means a marked destiny, is for Daniel an opportunity: "I could take two paths: begging or taking my life in hand and devoting myself to work with dignity ". So every day he goes to the garden to work, despite the various difficulties he faces, both those related to his physical condition, and those related to the territory and he is happy, because he can keep the family and pay their studies to children and grandchildren.
Daniel has chosen and won this great challenge and, every day, he sows and cultivates with great effort and gratitude many vegetables and plants.
Often those who have no food go to the garden, because they know that even without money can open that gate, look into the eyes this generous man, who with a few gestures and a few kind words will make him collect and bring home what is necessary to feed.
In over fifty years of activity he has given life to more than a million trees and this is what is most important for Daniel because, as he tells us, his country, because of the drought, needs many trees and does not stop, on the contrary, he dreams of planting another million.
---
It's Ok to be Different
Simon Allison
Centered on the young people and families of Drama Express, a UK award winning theatre group for young people with additional needs, It's OK to be Different charts the evolution of an exuberant performance premiered at Cornwall's iconic Minack Theatre. Challenging perceptions of disability from lockdown to curtain up, the film is both an argument for acceptance and exploration of identity, giving an audience the inside track on the challenges, realities and joys of living with additional needs. Rooted in their experiences of living through Covid, the young people of Drama Express are determined to share their stories. The film is a testament to the drive and vitality of an extraordinary and inspirational group.
---
EVA
Rory Herbert
EVA tells the story of Eva Holmberg-Tedert, an ordinary Swedish lady who, after learning of the child trafficking problem in Nepal, dedicated her life to try and make a difference. Over the last 12 years she has changed the lives of thousands of children in Nepal.
EVA shows the power of the human spirit, that one ordinary person's hope, compassion and determination can overcome atrocities and change the world.
---
I am Irani
Farhad Irani
Farhad, a well-known Iranian photographer, together with his wife Mahsa, decided to leave Iran due to difficulties faced back home. Farhad was born with a rare genetic disorder known as Treacher Collins Syndrome (TCS), which affects the development of the facial structure. Although TCS has made Farhad stand out all his life, his ability to rise above all challenges is what set him apart.
---
EXTREMADURA A NATURAL PARADISE IN EUROPE
CARLOS PEREZ ROMERO
A paradise of natural life awaits those who accompany us to explore Extremadura.
The variety and richness of its animal and plant biodiversity is such that it is an unrepeatable trip on the European continent.
Our documentary feature film will travel from the dense forests of the north, furrowed by violent torrents, to the vast steppe plains of the south where the bustard performs its amazing nuptial dance. It will take us to know an incredible mosaic of habitats and different ecosystems that enrich the wildest nature of Extremadura, the region of Western Europe with the highest percentage of areas of ornithological interest and with a third of its territory protected environmentally.
And that has the largest extension in the world of an extraordinary ecosystem: the dehesa. It is because of the diversity of species that it hosts and because since time immemorial it is a unique environment where the natural and the cultural coexist, complementing each other, in harmony.
It will be a trip with unique companions, some unique on the planet, such as the Iberian imperial eagle or the Iberian lynx; others so rare that they are in serious danger of extinction such as the black vulture or the black stork. We will enter spaces full of magic, works of art of Nature, such as Las Villuercas, Los Barruecos or La Jayona, an abandoned mine that Nature has reconquered for wildlife. Or like Monfragüe, an unparalleled natural environment because, not in vain, it hosts the largest and best-preserved patch of Mediterranean forest in the world, the world's largest concentration of birds associated with this type of forest and has been recognized by UNESCO as a Reserve of the Biosphere. Sierras, meadows, lagoons, forests, rivers, steppes … Extremadura is living land. Extremadura is the natural paradise of Europe.
---
Bring it to the People
Luis Palomino Benítez
As the pandemic raged throughout NYC, many vulnerable communities were faced with a dilemma: Get the COVID-19 vaccine or remain unvaccinated? Issues of vaccine hesitancy, government mistrust, and misappropriation of resources came to light. Hear the voices from the community and see the medical ingenuity required to address their needs.
---
Women of the Wild
Molly Ferrill, Jaye Callahan
Wildlife protection officers defending protected areas are perhaps our world's most passionate and knowledgeable champions of wildlife, but we don't often get the chance to learn from them in their remote corners of the world. It is particularly rare for us to hear from women working in this historically male-dominated profession. There are, however, many bold and talented women protecting wildlife in the field, and they have riveting stories to tell. In this series, strong female wildlife protection officers defending important parks and species around the world share their perspectives on wildlife conservation, explaining the critical threats to wildlife that they are witnessing on the ground.
In this pilot episode of the Women of the Wild documentary series, correspondent and National Geographic Explorer Molly Ferrill follows National Park Director Maricarmen Garcia Rivas, an expert in marine life, through an eventful day in her life protecting the National Reef Park of Puerto Morelos in Mexico, which forms part of the second largest barrier reef system in the world. Maricarmen takes us on a journey to show us her daily fight to preserve the coral reef and the whale sharks, manta rays, and sea turtles that depend upon it for survival.
---
To speak is to live – Freed from stuttering
Sonja Schütz, Sabine Schütz
In the documentary, 11 formerly stuttering people aged 9 – 30 years tell of their daily, painful experiences around stuttering with its limitations. Stuttering affects 1% of the world's population.

They all felt powerless at the mercy of stuttering and were looking for a way out. The therapy odyssey of the affected people, which sometimes lasted for years, left its traces, destroyed hope and made a vision of the future according to one's own ideas impossible.
In the worldwide unique therapy concept against stuttering "D.E.L.P.H.I.N.", they found the solution for their goal to overcome stuttering.
The comprehensive transformation from stuttering to normal speech is life-changing. How much speaking means life becomes visible through the deeply touching stories.

Experts from the fields of psychotherapy, medicine and politics comment from their perspective on the scope of the disease of stuttering and the liberation and development of potential that has become possible.