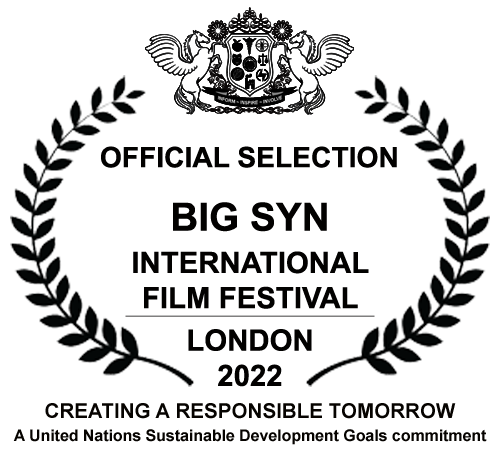 Marginalised UK
Special showcase of extraordinary films and filmmakers from UK's marginalised creative talents. Marginalised because of race, gender identity, sexual orientation, age, physical ability, language, and/or immigration status including but not limited to ethnic minorities, women and girls, people with physical and mental disabilities, and Lesbian Gay Bisexual Transgender Queer and Intersex (LGBTQI) filmmakers.
Nine MCcartney – Feel Dirty
CCCompasss
Stand Slam winner (2017) and One of the BBC Words First Finalists 2020. He has been commissioned by HOME, Ripples of Hope Festival and is a Young Identity artist. He has also performed at Manchester International Festival and One Mic Stand Berlin.
Nine McCartney's piece explores the idea of normativity and society's obsession with the binaries of right and wrong, good and bad, ugly and beautiful. His commanding piece takes on a comedic tone and attempts to coax the audience into the speaker's state of mind, into positions on what he views as society's embedded morals and values.
---
P.A.Bitez – Mother Messiah
CCCompasss
(P.A.Bitez) Princess Arinola Adegbite is a writer, poet, actress, musician, and filmmaker from Manchester. She is a winner of the Slambassadors, a BBC Words First Finalist (2020,) and a winner of One Mic Stand Slam (2021), and has just been awarded Young Creative of The Year (2021) by Manchester Culture Awards. P.A. Bitez is also a Young Identity artist and has been commissioned by Manchester International Festival, Selfridges & Co., BBC, and The Ripples of Hope Festival.
P.A. Bitez's Mother Messiah highlights the neglected divine feminine and is a spiritually driven, philosophical inquiry about the role of women. She calls for viewers to acknowledge the significance of femininity. The poem weaves its inspiration from a series of historically iconic women. The surrealist style of the poem mirrors the abstract and subconscious meanings we project onto the female form which blinds us to the brilliant power of nature and female bodies.
---
Bus Driver
Connor J. Matthews
The normal journey of a London bus driver transforms into a living nightmare as he finds himself in the middle of a terrorist stand-off between his panic-consumed passengers. Lives hang in the balance as he desperately tries to negotiate his way out of the quagmire.
---
Tourettes & I
Jack RH O'Sullivan
#ThisIsTourettes.
Co-Written and directed by Jack RH O'Sullivan who lives with Tourette Syndrome, Tourettes & I is a poignant story about trying to fit into the world where awareness is limited. The cast includes Ashton Cooper, Christopher Perifimou, Sarah Leigh, Josh Dudley, Christin Pruestel, Siobhan Bayford & Billy Chandler. Ashton Cooper plays a young adult with Tourettes who goes through the trials and tribulations of life where his tics impact him during a job interview. Going through prejudice and stress, he must learn to accept his Tourettes as a gift.
---
Found
Martin Travers
Found is a short drama about a loving father that doesn't always recognise what's happening around him, but today he's here to support his daughter and that's what matters. Confused, he slips out for an unscheduled adventure. On his journey he becomes lost. Across the city a young mother is on her own journey, feeling overwhelmed and under pressure. Near a busy road her child could be in danger. We watch as these two characters' journeys intertwine with compassion and kindness. Two lost souls who find each other, and in turn find themselves.
---
The Secret Life of Tom Lightfoot
Ray Jacobs
Tom is anxious, he holds a secret in his human heart, a wing beat and a flutter and its bursting to take flight.

The Secret Life of Tom Lightfoot is a tale of magical realism to be witnessed and shared. It is a tale of healing revealing how we can learn to live with the secrets of our more than human hearts.

Tom Lightfoot works as a calls operator for We have the Answers. A call centre, which answers anybody's questions about absolutely anything. Tom, is secretly studying for a PHD in bird migration but this is not Tom's secret life, his secret is inside of him

This film is part of a series of films "Secret Lives" combining the artistry and experiences of UK learning disability group Arty Party, the film direction of Ray Jacobs and the writings of NYT best selling fantasy author Jeff Vandermeer.
---
Wasps, Sharks & Vending Machines
Kew Lin
A seemingly mundane conversation in a London jazz bar compels an arrogant psychologist to face up to his own phobia.
---
N.E.W
Shona Murray-Smith
N.E.W tells the story of Nate Ethan Watson, the first transgender artist in the UK Grime scene.

Struggling with his identity as an emerging female artist, he is confronted with a life changing decision. Continue his career in music and achieve everything he ever wanted, or be true to himself and live the life he was born to lead

A story which encapsulates gender, expression, inner conflict and celebration.
---
B.U. Project
Christopher Bradburn
The b.u. programme is an arts and wellbeing programme delivered by Daisy Arts in Bishop Auckland that supports young people with mental health challenges. I am passionate about using my filmmaking talents to raise awareness of mental health. For more information about Daisy Arts and the great work that they are doing, visit www.daisyarts.org.
---
Annabelle's Aerodynamic Car
Moira Rowan
11 year old Annabelle Sappor, was the finalist in the Young Pioneers BT Tech 4 Good Competition, in 2021 , her entry was for a 'wind powered car aptly named , Huracan,Makina, named after the Mayan God of Wind, and Makina, meaning car in Albanian.
Annabelle is a very gifted young adult who could have a bright future , if she is mentored and sponsored. Her interests are Physics and Aerodynamics, she wanted to combine both her interests to create a design, that would make an impact on the world in a positive way.
---
Now I Feel Alive
Anya Bryan
'Now I Feel Alive' is a short documentary film depicting Kathleen Wotton's journey from being bed-bound, depressed and morbidly obese, to finding the spirit of life once again in creativity and nature. Kathleen takes you with her as she lets you into her worst moments; how it felt as she battled illness upon illness, believing that her life would soon be over. You then journey from those darkest moments, into the bright light that creativity, the sea, and community have helped Kathleen to discover.
Kathleen's is a journey of true inspiration and one that will leave you in awe of her strength, and give you the confidence to take your life into your own hands, and never let your circumstances define you.
Today, Kathleen has thousands of people, through social media, supporting her as her journey continues. She has lost more than 25 stone, a figure that's constantly growing. She has also begun volunteering as an inspirational speaker, hoping to help those who may still be in their darkest moments. In Kathleen's own words "if you're feeling you're at your lowest moment, it can't get any lower, it can only grow…"
---
Hecuba
Emeric Bernard-Jones
Hi! My name is Emeric and I am a non-binary performance artist from Manchester. A lot of my previous work focuses on my experience as a queer person and a person of colour from a religious/conservative background – however, this is my first foray into a more narrative film divorced from my lived experience.

The film still has heavy religious overtures, but in truth is an art/fashion film depicting the journey form Cassandra to Carmilla. From ancient greek visionary to gothic virago. What happens when piety pushes the ostracised further into the darkness?