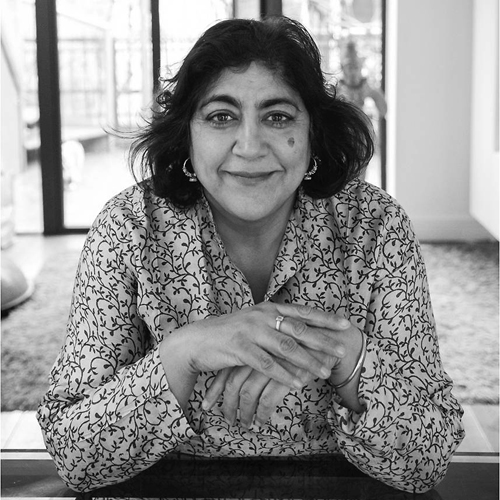 Director | Writer | Producer
Gurinder Chadha – Director/ Writer/ Producer – is one of the U.K.'s most proven and respected filmmakers whose award-winning films have earned over $300 million at the international box office. The  British Film Institute's recent filmography study on British Cinema history named Chadha as the U.K's most prolific female director working today. She began her career as a broadcast journalist for BBC News and moved into directing with her first documentary I'M BRITISH BUT…. for Channel 4 and the BFI in 1989 and subsequently made several award-winning documentaries for BFI, BBC and  channel 4. Her first feature, the landmark comedy-drama BHAJI ON THE BEACH, which centred on the experiences of a group of Asian women from three generations on a day trip to Blackpool,
received a BAFTA Nomination for 'Best British Film' and the Evening Standard British Film Award for 'Best Newcomer to British Cinema'. Chadha's next feature, WHAT'S COOKING?, a comedy-drama which tells the story of four different families (Latino, Vietnamese, African American and Jewish) preparing for Thanksgiving Dinner, was the Opening Night Film of the 2000 Sundance Film Festival and was the first British script to be invited to the Sundance Institute's Writer's Lab. The film was voted joint Audience Award winner in the New York Film Critics' 2000 season (tied with BILLY ELLIOTT).
Her next film, BEND IT LIKE BECKHAM, was the highest grossing British-financed, British-distributed film ever at the UK box office (at time of release) and topped box office charts internationally. The film received a Golden Globe Nomination for Best Picture (Musical or Comedy), a BAFTA Nomination for Best British Film, a European Film Academy Nomination for Best Film, and a Writers Guild of America Nomination for Best Original Screenplay. Her other hit films include BRIDE & PREJUDICE – a film which marries Jane Austen with Indian and Western musicals – which was the first film ever to open at Number One in the UK and India on the same day, ANGUS, THONGS AND PERFECT SNOGGING, based on the international bestseller which was released worldwide by Paramount Pictures in 2008/2009, IT'S A WONDERFUL AFTERLIFE which premiered at the Sundance Film Festival before releasing internationally in 2010 and VICEROY'S HOUSE, an epic drama on Indian Independence and Partition starring Hugh Bonneville, Gillian Anderson, Manish Dayal and Huma Qureshi. The film world premiered at the Berlin Film Festival in 2017 to critical acclaim and box-office success. Her most recent film, BLINDED BY THE LIGHT, is inspired by the songs of Bruce Springsteen. It opened to rapturous reviews and broke sales records at the 2019 Sundance Film Festival. The film will be released worldwide by Warner Brothers in August 2019. In 2015, Chadha mounted the stage musical version of BEND IT LIKE BECKHAM in London's West End to 5-Star Reviews & critics' awards. Chadha has received several Honorary Doctorates from British Universities and was awarded an O.B.E. in the 2006 Queen's Birthday Honours List for her services to the British Film Industry. She is an active patron of numerous charities including MAF (Medical Aid Films), is a Creative Mentor and Role Model for Creative Access, Directors UK INSPIRE, the BFI and the Sundance Directors' Lab, and Patron of Women in Film UK. Bend It Films recently joined forces with International Sales and Distribution company, Fremantle Media to create diverse scripted and non-scripted TV content. Chadha recently created  BEECHAM HOUSE, an epic, returning drama series set in India in 1795 for ITV and Masterpiece/PBS. The 6-part series will premiere in the UK in June 2019 and in North America late 2019 / early 2020.