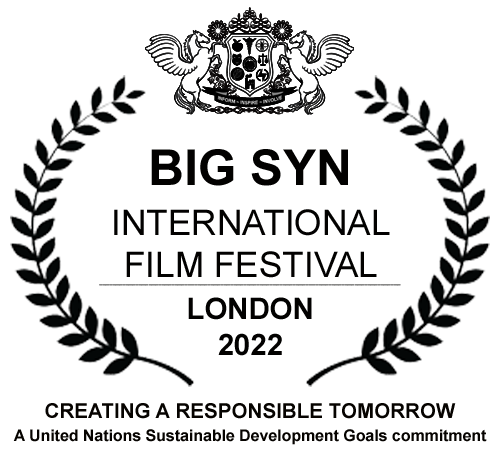 Welcome to the virtual screenings of the 2022 Big Syn International Film Festival – the biggest festival of its kind!

23 – 28 Oct 2022
The official selections you are about to view were chosen from over 400 entries received from over 80 countries.
The winners have been selected by a Grand Jury comprised of OSCAR, BAFTA and EMMY award-winners, as well as other luminaries from film and media, sustainability and policy.
Each of these films highlight major global challenges as well as solutions and innovations to combat those. Since 2019, through relatable stories, such films have educated over 5 million people around the world about the significance of the 17 United Nations Global Goals or Sustainable Development Goals (SDGs) – a blueprint for a fair, equitable, peaceful and secure future for all. Awareness and consciousness are the first steps to change and this film festival is facilitating that process by informing and inspiring the civil society to #actnow on the Global Goals.
With only 8 years left before we reach the point of no return in 2030, every tiny effort is priceless in addressing the UN SDGs, to ensure a safe, secure and sustainable future for everyone.
If this is the first time you are being made aware of the UN SDGs, please take your time to learn about these, find out why these goals are indispensable for our continued existence in this interconnected world, and most importantly find out what you can do to bring about positive changes around you.
What are UN SDGs and why are they important for me?
How can I act or what can I do to address these goals?
---
2022 BSIFF Program

Winners of each category will be declared on the the following dates. All official selections are viewable worldwide for free 23 -28 Oct 2022.

Please follow us on Facebook, Twitter and Instagram to be notified about the winners.

23 Oct
Feature films & PSA/Charity films

24 Oct
Climate change

25 Oct
Young filmmakers & animations

26 Oct
Documentary

27 Oct
Marginalised UK

28 Oct
Short films